Canvas @ CSUDH
During the 2023-2024 school year we will replace Blackboard with Canvas by Instructure as our new Learning Management System (LMS). This conforms to the Governor's higher education 2020 budget proposal whereby all CSUs, UCs, and CCC's will teach on the same learning management system. As per the Chancellor's Office directive, this will ensure a common CSU Learning Management System platform beginning in Spring 2024.
What is Canvas?
Canvas is a learning management system (LMS) by Instructure. Canvas provides faculty with the resources they need to improve the student learning experience:
An intuitive, easy to learn interface, including an improved mobile app experience;
Enhanced and easy to manage syllabus, course calendar, and course schedule that automatically updates due dates for course activities;
Improved workflow for more streamlined grading; A dashboard that quickly summarizes all relevant course events and items;
Simplified student collaboration and group options;
and 24-7 phone and live chat support with Canvas, along with improved instructions, videos, and guides.
What does this mean to me?
The roll out will be gradual. For the next two years, we will assist faculty and students with the transition. We recognize that a change to a new LMS is not a trivial undertaking, especially during a pandemic. We will provide self-paced classes, workshops, and other resources, including individual troubleshooting, to help you with the transition. Please return to this page for continued updates of our progress, and for resources that will facilitate the move to Canvas.
What about my old Blackboard classes?
Please note that all the courses that you currently see in your "Courses" area in Blackboard will be converted and migrated to Canvas with the assistance of a contractor/vendor (K16). You can find them in your Canvas account. Earlier courses that have been archived can be restored and migrated on demand.
Timeline
The transition to Canvas will happen over three semesters: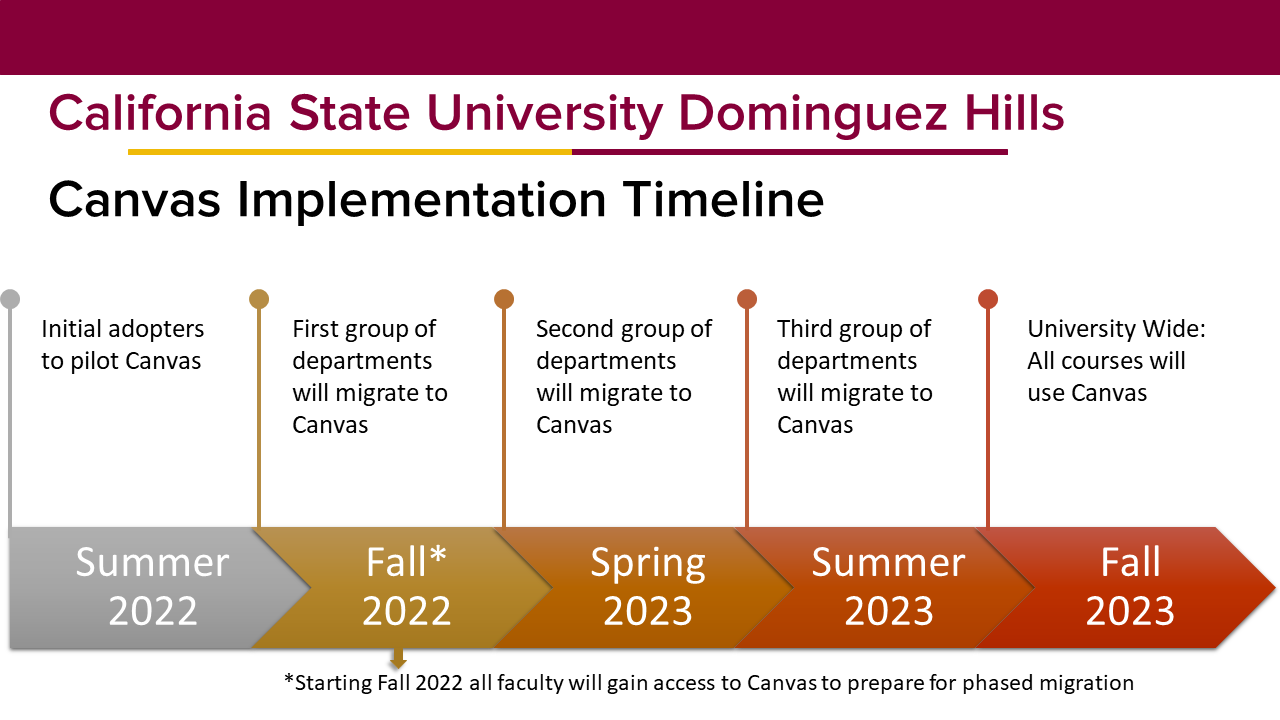 If you have any questions about the Canvas migration, please contact us: canvas@csudh.edu.
Training and Support
The transition will include a wealth of help, training, and support resources throughout the transition period. View the Faculty Resources and Student Resources for more information. Faculty will also have access to live and on-demand training through Canvas as of April 2022.
Early Adopters Pilot
A small number of courses will run on Canvas in Summer 2022. Faculty and student feedback on the system will help support a smooth transition.
Integrations and Tools
Canvas supports most integrations used in Blackboard by our students, faculty, and staff. Faculty will still be able to add Zoom links to their course to host synchronous meetings. Learn more about 3rd Party Tools available in Summer 2022 for early adopters and future terms.
Accessibility
Canvas was one of the top-rated systems by Student Disability Services. We will continue integrating Ally to support uploaded content accessibility.
Stay Informed
Please return to this page for continued updates of our progress, and for resources that will facilitate the move to Canvas. Questions If you have questions about the LMS migration or how it impacts you, please view the FAQs (Frequently Asked Questions) for more information.